EAZY GARDEN® - PRO Planting Auger
Regular price
$64.95
Sale price
$39.95
In Stock Now!
The Gardener's best secret weapon.
/
"This fabulous tool helped me to do the job 5 times faster then with a normal spade...and I was able to plant my 48 bulbs without having to break my back. I now use it almost everyday!"
⭐️⭐️⭐️⭐️⭐️  - Emma.W  ✅ Verified Buyer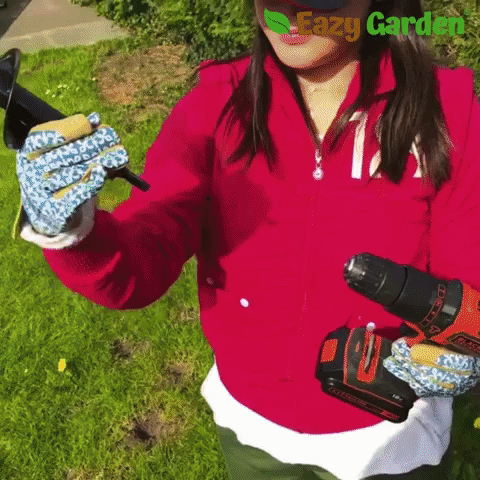 The EAZY GARDEN® is the ultimate tool for your everyday gardening tasks, and is perfect for planting bulbs, bedding plants and seedlings with ease. Its spiral patented design allows you to effortlessly dig holes into the soil, and take care of your garden easier & faster.
The ingenious tool can also be used for removing weeds and aerating the compost heap!
The EAZY GARDEN® digs through: 
Compacted Garden Beds

Solid Clay 

Stony Ground 

Fibrous roots (eg. shrubs and palms) 

Coffee Rock 

Shale soil and more.

  
"The Eazy Garden PRO saved us hours of work digging holes to plant our tomatoes. Also, serves as a good tool to mix compost soil amendments."
John.M - Farm Owner

 
⭐️⭐️⭐️⭐️⭐️
Specifications: Color: Black. Weight: 270g. Available in 9" (4x22cm) ; 10" (8x25cm) ; 18" (4x45cm) ; 24" (8x60cm) ; Super Set 3-in-1

Package Include: 1 x EAZY GARDEN Auger (drill not included).
🌱 FREQUENTLY ASKED QUESTIONS: 
 THIS TOOL WILL TWIST MY WRIST ?! 
No, as long as the drill is used correctly there is no risk of twisting your wrist or injuring yourself. 
We advise customers to use their drill on the screw driver mode and at slow speed. That way if ever there's any resistance while digging the clutch of the drill will automatically disengage and stop.
WILL THE EAZY GARDEN WORK WITH MY DRILL? 
The Eazy Garden is compatible with all drill brands and is designed to fit in any standard power drill whether it has a 10mm (3/8th inch) chuck or 13mm (1/2 inch) chuck.The hex-shaped end of the Eazy Garden fits securely into the chuck and prevents it from slipping when the operating the drill.
WILL IT WORK IN CLAY SOIL? 
Yes, the Eazy Garden works fine in all types of soil, clay included. 
 WHAT SPEED SHOULD I USE?
We recommend the lowest speed on screwdriver mode. If you feel you need more speed, increase the speed slowly.
SHIPPING TIME, RETURNS, & REFUNDS
We ship worldwide! Our delivery times are betweem 7 to 15 working days worldwide. 
We offer a 100% money back guarantee! If, for any reason, the product does not suit your expectations, you can return it to us within 30 days after receipt and we will refund you the full price. 
CUSTOMER SUPPORT
Have a question? We offer 24/7 customer support. You can contact us by email at 
hello@eazy-garden.com
Please note that we require 1 to 2 working days on average to fulfill your order before dispatching it.  Rest-assured we are doing everything in our power to get your order to you as soon as possible!  Once your order is dispatched, depending on your country or region, estimated delivery time is between 2 to 3 business days for US orders and 7 to 15 business days for international orders. Please consider any holidays that might impact delivery times.
HOW MUCH IS SHIPPING? 
For US orders USPS express shipping is $4.95 (2-3 day delivery) and standard shipping is $2.95 (7-15 day delivery) 
For INTERNATIONAL orders (UK/IR, EU, CA, AU, NZ) premium tracked shipping is $3.45 (7-15 day delivery). 
DELIVERY TIMELINE
Standard (7 - 15 Days Delivery)
USPS Express (2 - 3 Days Delivery)
WHERE DO YOU SHIP FROM? 
We are a US based company and ship from Chino, CA, USA for all US orders, and from our international warehouse based in the far east for all other orders. 
ORDER PROCESSING TIME
All orders are usually processed in 24 hours Monday to Friday. Once orders are processed, an email is sent for shipping notification with a tracking link once shipped.
NEED AN UPDATE?
You will get an email once your order has been processed. The shipping email you receive usually has the tracking link so you can check progress, but in case you need more information, please feel free to contact us.
WHERE DO YOU SHIP?
We ship all over the US, Canada, UK/Ireland, EU, Australia and New Zealand. 
TRACKING YOUR ORDER:
To track your package you can visit our Tracking Page.  If you are unsure of your Tracking ID please use our Order Lookup form located Here.
Please allow 1 to 3 working days for the tracking information to show.
WRONG ADDRESS DISCLAIMER:
It is the responsibility of the buyer to make sure that the shipping address entered is correct.  We do our best to speed up processing and shipping time, so there is always a small window to correct an incorrect shipping address.  Please contact us immediately at hello@eazy-garden if you believe you have provided an incorrect shipping address.
RETURNS:
By placing an order on Eazy-Garden.com, you are responsible for the cost of return shipping back to Eazy-Garden.  Please refer to our Return Policy for further information on how to make a return.
LOST/STOLEN PACKAGES: 
Eazy-Garden.com is not responsible for lost or stolen packages. If your tracking information states that your package was delivered to your address and you have not received it please report it to your respective shipping carrier at the information provided to you on our Tracking Page.  If you have any further questions on how to do this please reach out to our customer support team at hello@eazy-garden.com